Case Study: Invoice Customization
___
Background:
"Design for Delight" is a process used by Intuit design teams to iterate their products through rapid experimentation and exercises in developing customer empathy. In 2012 I was part of a small task force to use D4d to explore the concept of personalization in QuickBooks, and how personalization could influence a customer's opinion about a product they've purchased.
Task:
Our team was give a twofold goal: To investigate how personalization could lead to delight in our products, and to design a feature that could raise conversion rates by allowing users to personalize aspects of their QuickBooks.

___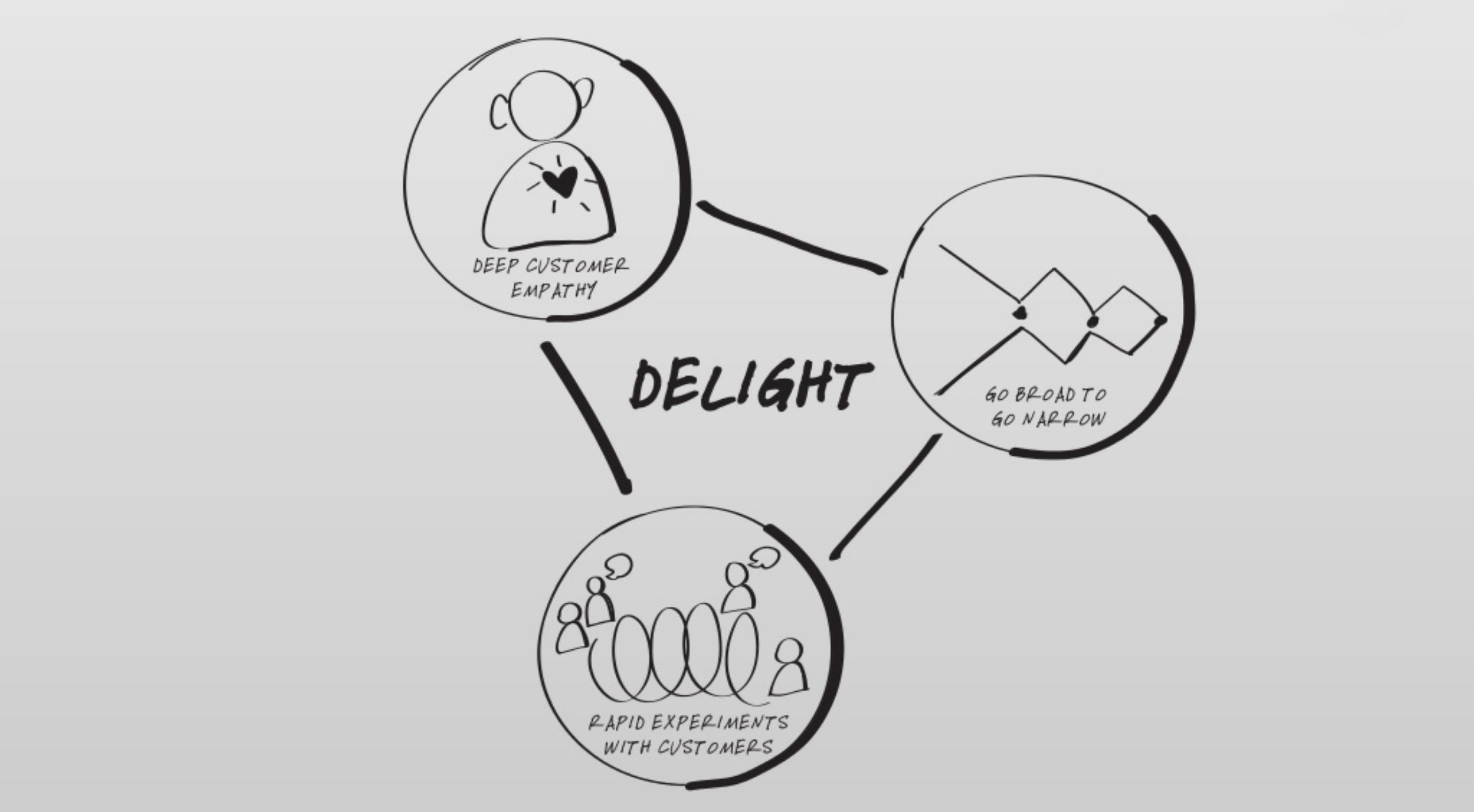 Process
Design for Delight is a cycle of convergent thinking (narrowing down) following a period of divergent thinking (broad ideation). The basic concept is to generate many ideas, eventually filtering out the ones that work best and using them in experiments. As the cycle continues, designers have the opportunity to develop deep empathy and new perspectives on users. More on D4D can be found here.

Initial Findings
___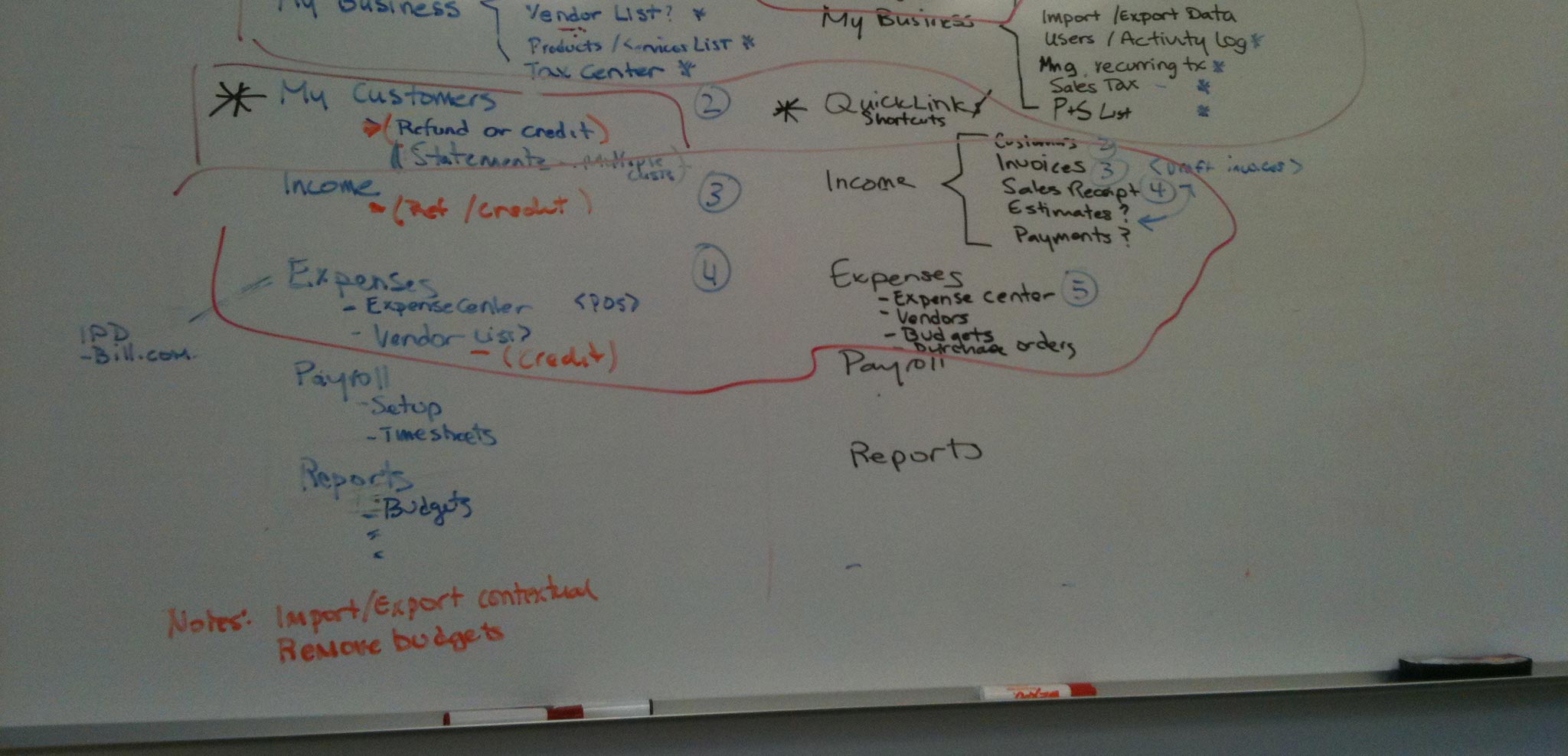 Our Users are Proud
After our first round of panels, meeting with QuickBooks users and accountants gave the team a glimpse of just how much pride owners have for their businesses. Everyone we spoke to was happy to share their business cards, storefront photos, and personal histories. To these business owners, their business is an extension of themselves.
A Business' Needs are Unique
One common problem that we encountered across most new users dealt with account setup. QuickBooks is a complex app and has a lot of options, and many users abandoned the product because they needed a particular feature that they couldn't find. One common thread, though, was that nearly everyone we spoke with needed at least one of these options, whether they had found them or not. A common workaround was to write additional information on the form after printing it.
The Papers are Important
While many users didn't know how to customize their forms, we noticed a trend of users who think of accounting in terms of what gets printed. This prompted an interesting discussion: "What if you could customize a printed page, and have it setup QuickBooks for you?" From there we hypothesized that customizing these forms could achieve three things:
Styling invoices could give business owners an outlet for self-expression, and thus, delight
Customizing what information is stored in an invoice could be an informative experience for users about QBO's features.
Customizing form data could be leveraged to make setup an easier task for new users.
We've got tests to run!
Just by having a few sessions, we learned that we could be better for our customers by giving them the tools to express their brands and easily set up their QuickBooks accounts. The team pushed forward by doing card-sorting exercises and cooking up a batch of prototypes to test with users in the laboratory.

Concept Research
___



First Round
The first round sought to discover how both new and experienced users thought about their invoices. We tested 3 models that varied in their overall presentation - One was heavily categorized, one was a single, unified list, and the other hid options and showed a small interview and styling tool to complete the customization tasks. Users resonated with manipulating a live preview and having their options divided into smaller buckets.

___



Second Round
With a a clear understanding of what users wanted, it was time to investigate "how". The second round of tests centered on a single layout and organization, but this time, the tests focused on micro-interactions and functional affordances. Customers were particularly pleased with having an invoice automatically match the color of their provided logo, and working on their invoices in terms of the printed sections of their documents.

___



Launch and Subsequent Tests
The results from the first two tests gave the team enough to build a V1 — We had a clear understanding of just how much a little personalization can impact a QBO user's lifelong happiness, what options they cared about most, and how to surface them. Within six months, the team noticed a modest lift in conversion for users exposed to the new experience. Since then, the feature has been a hotbed of development activity, and is now part of the products First-Time-Use.

Outcome
___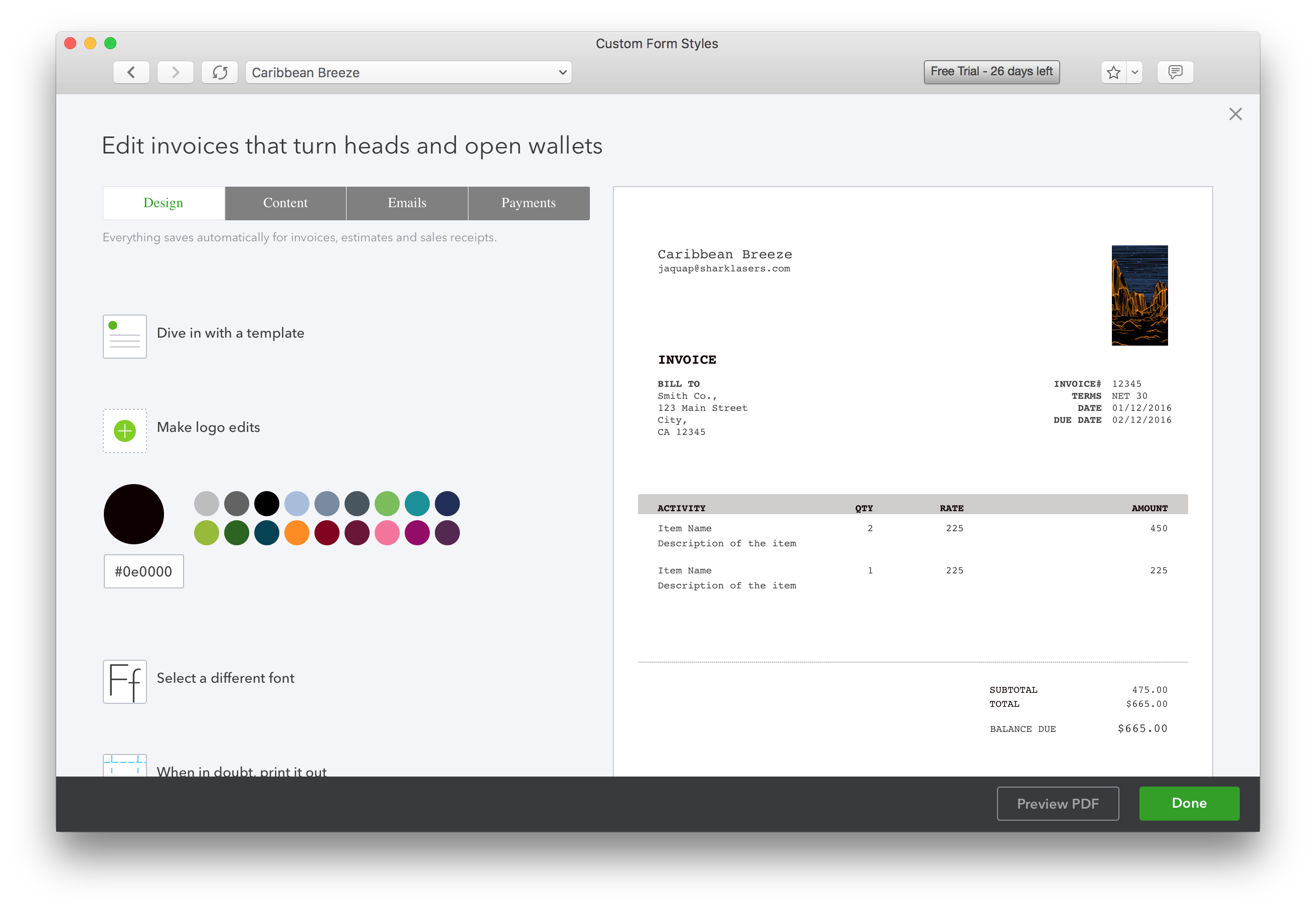 Our Invoice Customization project taught the QuickBooks Online team many lessons. Not only was it responsible for the first iterations of the feature itself, but it informed other teams about the impact that personalization has on our customers. It also helped us make sense of a long-neglected set of preferences and develop methods for new users to set up their accounts. The learnings from our work laid the groundwork for a new era of customer delight at Intuit, and much of its DNA can be seen across the most recent versions of QuickBooks.